Guido Berlucchi will once again be in the select group of funding supporters of the 2nd annual Milano Wine Week, 6-13 October, and, as expected, will offer an event-packed programme for participants.  
The 2019 edition will open its doors, in fact, right in Palazzo Lana, Guido Berlucchi's historic headquarters, with the introduction on October 5 of the ACADEMIA BERLUCCHI, The Virtuous Circle of Knowledge, a wide-ranging initiative created by the Ziliani family showcasing world-renowned guests and experts, with the objective of stimulating and sharing  exchanges and reflections on a possible future totally in harmony with the local area.
On 7 October, the celebration shifts to Palazzo Bovara, the vibrant centre of the WWW, where Berlucchi will offer a must-attend Masterclass entitled "Berlucchi and Its Sustainable Growing Areas," an in-depth look at how growing areas are evolving and how they will become ever more visitor-friendly. Workshop leader will be Swedish wine & travel expert Asa Johansson and Francesco Morace, prominent sociologist and curator of the Academia Berlucchi. Following the presentation is a tasting of the Berlucchi maison's non-dosage '61 Nature 2012 Franciacorta. The afternoon, at the same prestigious venue, will feature Berlucchi Franciacortas among the other wine stars at the Festival del Franciacorta, a tasting organised by the Consorzio Franciacorta.
On 12 and 13 October, Berlucchi will open the door to its history-rich winecellars, where the very first bottle of Franciacorta was produced—and where it still reposes. The Berlucchi Wine Tour will put at visitors' disposal two shuttle buses, leaving Palazzo Bovara at 10.00am and 4.00pm for Berlucchi's headquarters in Borgonato.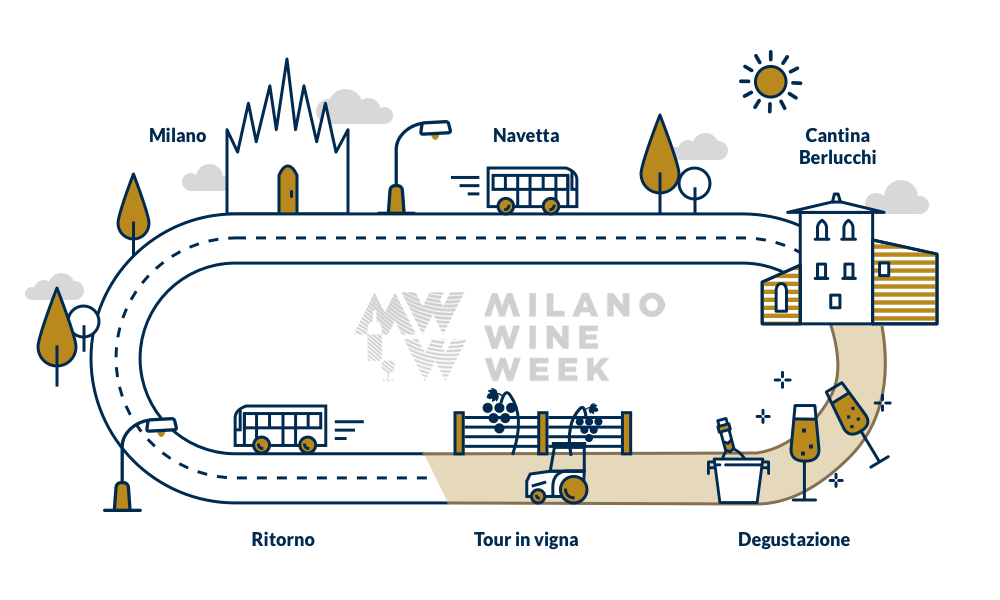 Among the many other activities that will feature Guido Berlucchi during Milano Wine Week are the Wine Business Forum at Palazzo Bovara on Oct 8 that will involve subjects pertaining to the world of wine; the 10th annual Vendemmia di Montenapoleone at the Fratelli Rossetti boutique son 10 October, at which Berlucchi will be a guest; and finally, the "La Strada del Vino Olimpica. Milano – Cortina 2026" tasting on 13 October, sponsored by the Women in Wine.