Franciacorta labels often display rather mysterious terms: Pas Dosé, Extra Brut, Blanc de Blancs…
Some are obviously French, since the classic method, known also as méthode champenoise, originated in the Champagne production zone.
Others are used only for specific wine styles, such as the word Satèn.
Let's begin with the sugar levels.
In Italy, sugar may legally be added only to sparkling wines, and a term on the label indicates the level of sweetness.
The ascending scale of added sugar is as follows, from the driest to the sweetest, with the most popular styles in boldface:
Pas Dosé, also known as Nature, Dosaggio Zero, Extrême: less than 3 g/l
Extra Brut: 0-6 g/l
Brut: Less than 15 g/l
Extra dry: 12-17 g/l (+ 3 g either way allowed)
Sec, Secco or Dry: 17-35 g/l
Demi-Sec or Abboccato: 33-50 g/l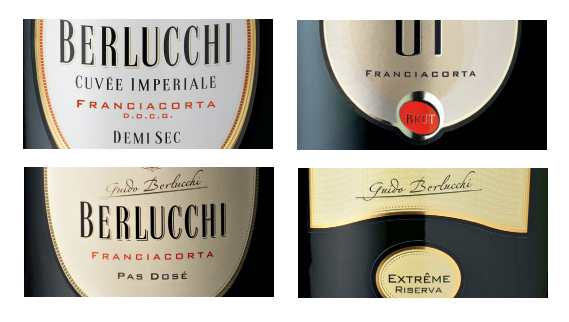 Question: Then Dry doesn't mean dry?
Actually, that is true, and that can be confusing, since an Extra Dry wine–as are almost all widely-available Proseccos–is not dry at all, and tends, in fact, to be almost sweet.
Even worse, the term Demi-Sec, which would seem to indicate an almost-dry wine, is just the opposite.
So, pay close attention to the wine label, or you may select a sweet wine instead of dry!
The perception of sweet-dry is not only a result of the sugar level, and it is also true that the various sweetness levels are easy to perceive only when the differences are significant.
Even an expert taster may find it difficult to distinguish between an Extra Brut and a Brut or between an Extra and a Dry (even though the latter style has almost 20 grams more of sugar).
Another term you will find, but exclusively in Franciacorta, is Satèn. This indicates a Brut style, but with the additional characteristic of having a lower internal pressure of under 5 atmospheres–and hence a softer effervescence–and of being made only with white grapes–so a Blanc de Blancs (see below).
Another term might be Riserva, which indicates–when referring to a Franciacorta–a wine that has matured on its fine lees (sur lie) for a minimum of 60 months (5 years!).
If you see a year printed on the label (2008, 2009, …) it indicates a Millesimato, or vintage-dated wine, with the year of the harvest of its grapes (by law, at least 85% of the grapes used for that wine must be of the harvest year on the label).
The term Blanc de Blancs is reserved for wines made with only white grapes–for Franciacorta, only Chardonnay and/or Pinot Bianco–, while Blanc de Noirs is for wines produced only with red grapes–usually Pinot Noir. However, since it is possible to make a white wine from the clear juice of a red grape, we shouldn't be surprised to find a white–a Blanc de Noirs.
Finally, the term Rosé indicates a sparkling wine made totally or in part from a red grape, which gives that wine its classic pink hue. The Franciacorta production code, for example, requires that rosé be at least 25% Pinot Noir, although they are usually closer to 40-50%.
Some sparkling wine labels have the term V.S.Q.P.R.D. as well, which has nothing to do with the ancient Roman designation S.P.Q.R., but means Vino Spumante di Qualità Prodotto in Regione Determinata (Quality Sparkling Wine Produced in a Specific Region).
So, when you are selecting a bottle of sparkling wine, focus in on that label!