In collaboration with the Brescia Photo Festival organised by the Museo di Santa Giulia, Berlucchi is proud to host a photography exhibition showcasing the art of the portrait in the history of Italian and international photography.
Entitled "I Ritratti della Dolce Vita" (Portraits of La Dolce Vita), the exhibit presents some 40 images of leading figures of the '60s and of the so-called paparazzi period, whose practitioners captured unusual and "scandalous' candid photos of celebrities of various kinds.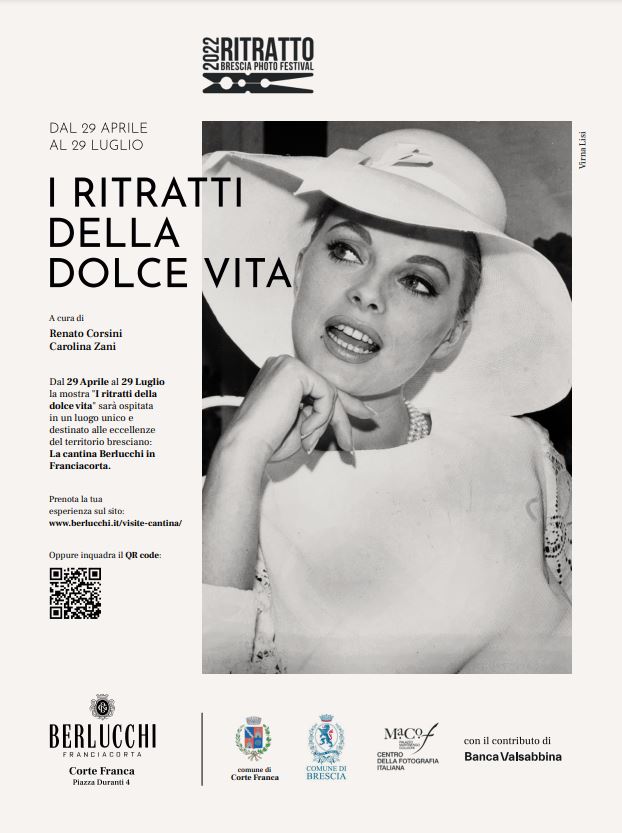 MACOF (Center of Italian Photography) and the Museo di Santa Giulia selected Guido Berlucchi as the off-site venue for the Photo Festival specifically for the one-of-a-kind fascination of our historic wine cellar, whose fame is due to its being–in 1961, in fact–the place where the very first Franciacorta was created.
Visitors may view the exhibition by purchasing one of our tour options and booking a date between 29 April and 29 July.
This is a rare opportunity to savour our Franciacortas while being impressed by the artistry of photographers such as Tazio Secchiaroli and Giuseppe Palmas, who will bring you back to Rome's "Hollywood on the Tiber," Cinecittà in the '60s.
We look forward to your joining us for a toast to the artistic marriage of Franciacorta and history-rich photography!
#berlucchimoments