There is always quite a bit of discussion about terroir and growing area, but every once in awhile we should direct attention to "the fundamentals."
So let's talk about the grapes that go into producing Franciacorta wine.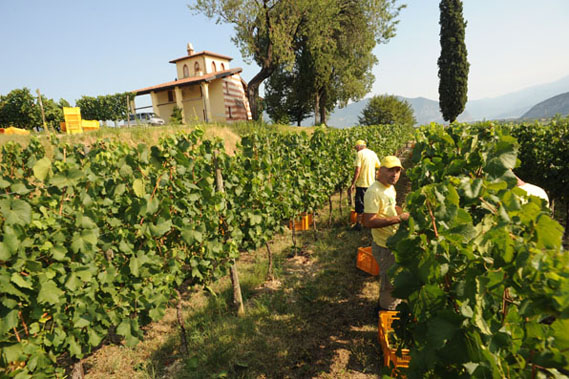 Chardonnay and Pinot Noir are the most widely-used, but Pinot Bianco may also be used to produce Franciacorta, although never over 50%.
It is easy to find 100% Chardonnay Franciacortas from some producers. Satèn is almost always 100% Chardonnay; Pinot Noir may not be used to produce this style.
But a blend of the two principal grapes is more common. In the "white," or clear versions of Franciacorta, Chardonnay almost always predominates, while the proportion of Pinot Noir increases in the rosé versions, in which its use must be at least 25%.
There are exceptions, of course, such as excellent monovarietal (100%) Chardonnays, or Pinot Noir vinified as a white wine, with minimal syrup dosages added, in order to showcase the varietal character of the grape.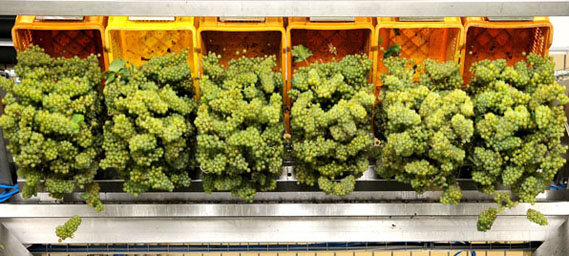 Chardonnay clusters being loaded into the press
But what is the main difference between the grapes?
Chardonnay develops a complex of aromatic components–in particular with a lengthier maturation sur lie–ideal for giving the wine harmony and smoothness.
Pinot Noir provides body, weight, and minerality; it can be lean and austere, sometimes almost biting.
This is the reason that the two grapes are often used complementarily, in various proportions, precisely to maximize in the wine certain of those characteristics.
So, if you are looking for a wine that is quite smooth, try a monovarietal Chardonnay, whereas if you prefer more structure and body, choose a 100% Pinot Noir. In between, you will have available an incredible array of variety and complexity, and perhaps the one that you will like best with be a marriage of the two…